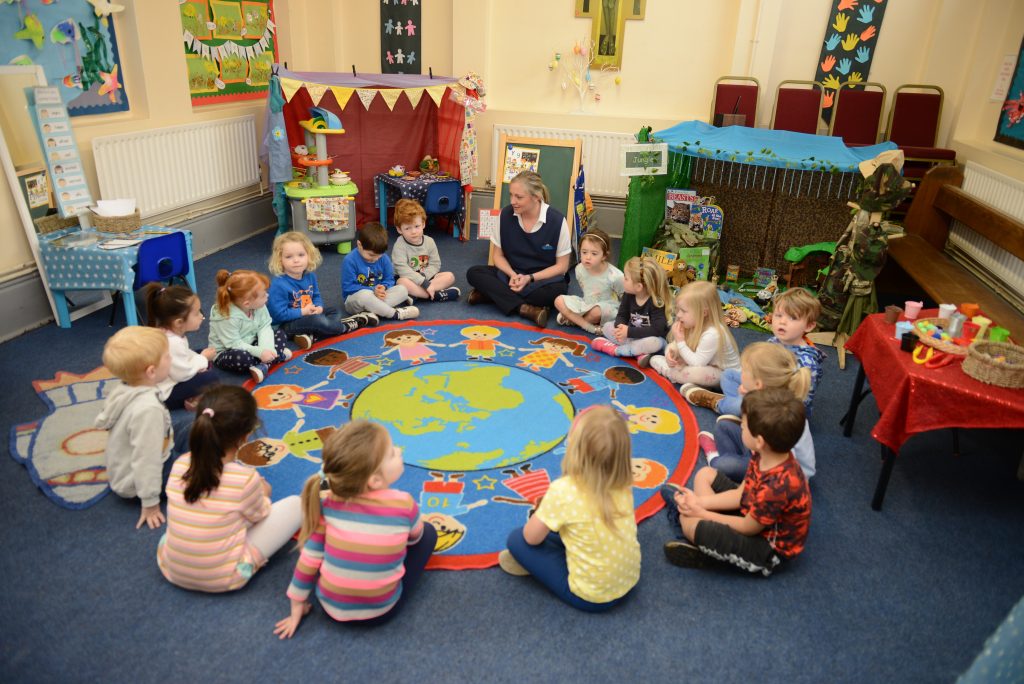 Emma's Day Nursery
The Nursery and Pre School are operated under Emma's Day Nursery Ltd, wholly owned by teachers, Emma Henwood and her husband, Mark. Emma entered teaching in 1995 as a Primary school teacher with Early Years specialism and subsequently qualified as an Early Years Professional and has worked as an OFSTED Inspector of Early years provision.
The Nursery is registered with OFSTED – OFSTED registration – EY537565
The Pre-School is registered with OFSTED – OFSTED registration – EY537566
Ethos and Values of the Nursery
Professionally Guided:
We will ensure a deep leadership of experienced and qualified practitioners.
Led by excellence – Early Years and Primary Teacher led alongside augmented Level 3+ Deputy Manager structure.
Highly effective staff development and sharing of outstanding practice in a supportive environment.
Individual responsibility to grow in knowledge, understanding and practice.
Whole Child Development in a secure and homely environment:
We will ensure each child is free to be met as they are and will support their unique journey in growth.
Home from Home approach – development through safety, security and trust.
Development of a child's self-worth, value, independence and cultural capital – walking each child's own journey.
Developing the child within the family – secure partnering with parents / carers / agencies
Preparation for a life of learning (cultural capital) – providing the best start through kindness, resilience, problem solving; negotiation; freedom to learn through discovery.
Christian Ethos:
Understanding and respecting that we are people of different faiths or none, we will set as our goal to love one another:
Dignity – the innate value of each person in equality and diversity.
Uniqueness – the individual state of being and journey of each of us.
Giftedness – the talent and perfection of each of us
Goodness – the heart and soul of each of us
Love – the root and purpose of each of us
Trust – the supportive and compassionate bonds between us
Awe and Wonder – the sheer enjoyment and celebration of the richness of creation for all of us.
What are the key features of the Nursery?
Qualified Teacher led – Having taught in several local primary schools, Emma Henwood established "Emmas" shortly after our first child was born in 2001. Emma brings knowledge and experience in how children learn, child motivation, confidence building, discipline systems, development through the Early Years Foundation Stage and primary curriculum – all to provide your child with a secure grounding in preparation for the day they arrive at "big" school.
Secure Home environment – At Emma's Day Nursery your child will play and learn on the ground floor of our residential style premises – a secure and homely environment where we believe the difficulties of leaving parents and home are reduced. Our Nursery is a home from home – the children will meet other children and grow in independence and confidence.
At Emma's Day Nursery Pre-School, your child will play and learn in the cosy surroundings of the small hall – which is set up each day to ensure a warm, friendly and creative environment, in which your child can develop.
Size – Our size guarantees that your child is always at the forefront of our thinking. Although a member of staff is specifically allocated to your child, we do not need extended key worker structures – we will simply know you and your child. Current Day Nursery capacity is 24 children, whilst the Pre School has a capacity of 21 children.
Christian Ethos – We welcome children from all backgrounds, of any faith and none and are sensitive to individual beliefs and cultures. However our primary approach, as practising Catholics, is to be guided by our Christian Ethos. We may sometimes pray, particularly before meals and your child will be introduced to the wonders of our multi-cultural world through the teachings of Jesus.
Looking after what we eat – Diet is so important in the health and development of our children and we are convinced of the need to provide a healthy menu.  Weekly menus are available for review and all costs are included in our prices. The Day Nursery provides, breakfast, morning snack, lunch, afternoon snack and tea, whilst the Pre School provides breakfast, morning snack and lunch.
Outdoor Play – Exercise, Sport and Recreation – We are lucky in both settings to have  gardens for the children to exercise in. At the Nursery we have a fantsatic pirate ship including sand play area to faciltate role play and creativity. Our lovely team of practitioners oversees the gardens where the children learn about growing fruit and vegetables, harvesting and of course eating them! The gardens also include natural wooded areas in our bushes and trees which provide an excellent opportunity for the children to explore learning and their own physical boundaries through play.
At the Pre School, we have replicated the essence of the Nursery garden, to allow for invention and exploration in a natural environment.
What did OFSTED say?
Emma's Day Nursery changed from a sole trading business to a Limited Company in 2016 – although the actual owners, management and operations remained unchanged in entirety. This meant that we could not officially retain our Ofsted reports. However, Emma's Day Nursery was most recently awarded a rating of Outstanding by Ofsted and details are found on our OFSTED views page.
Who looks after your children?
Emma works with a team of qualified Nursery specialists. We are a small team of around 14 staff in total with a wonderful mix of experience and freshly trained ideas.
Currently, Nicola, Vicki and Sophie support Emma in their Setting Manager roles.